ENGINES AND TRANSAXLE CHOICES
We do not use illegal Subaru engines such as JDM (Japanese Domestic Market) These are forbidden in any form by EPA for any highway use.

We do not use Subaru drivelines designed for "off road only use" sand rails and dune buggies which if used for Highway use do not comply with the US EPA Clean Air Act nor CARB (California Air Resources Board) and are in direct violation of Federal standards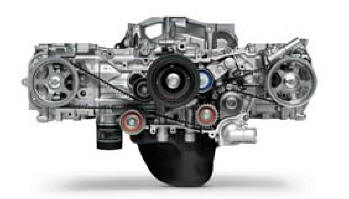 2.5 liter SOHC and 2.0 liter DOHC Flat-4
Two 4-cylinder engines combine capable power, efficiency, and impeccably smooth operation.
Subaru 2500cc (2.5L) SOHC, four cylinder, 2 cam fuel injected, water-cooled (170hp @ 5500rpm; 166 lb-ft Torque@4000 rpm; 87 octane regular fuel)
Subaru 2000cc (2.0L) DOHC four cylinder, 4 cam fuel injected, water cooled (148hp @ 6000rpm, 146 lb-ft Torque@4200 rpm, 87 octane regular fuel)
---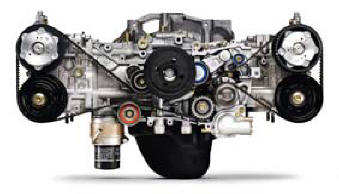 2.5-liter Turbo (OPTIONAL)
The intercooled, turbocharged 2.5-liter engine comes in many versions, with each one delivering a punch of performance.
224hp*, 243hp*, 250hp*,265hp, 300+hp Turbo (optional)
*these engines available in both automatic and 5 speed. Others 5 speed only.
Subaru 2500cc (2.5L) DOHC, four cylinder, 4 cam fuel injected, water-cooled (265hp @ 5500rpm, 236 lb-ft Torque@4000 rpm; 91 octane fuel)
---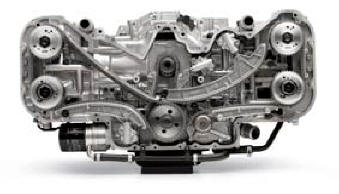 3.6-liter Flat-6 (OPTIONAL)
The largest SUBARU BOXER® engine available, this 3.6-liter 6-cylinder serves up 256 horsepower and 247 lb.-ft. of torque.
Subaru 3600cc (3.6L) DOHC, six cylinder, 4 cam, fuel injected, water-cooled
Our standard Subaru engines have not been modified in any way to achieve their horsepower ratings. They were designed by Subaru to be used in the OEM automobile environment across the globe enduring all weather and driving conditions in much heavier cars than our replica models. The durability and performance reliability of these engines is known worldwide especially in the brutal road racing World Rally Championships (WRC) arena of which Subaru has been World Champion several times.
You can enjoy the exhilaration of a "high performance" car without the risk or cost of a highly modified engine.
To test this philosophy ask what warranty is provided with a highly modified VW engine.
These are "useful" horsepower and torque ratings using regular grade fuel, and occur within engine rpm levels normal drivers never exceed. Paying for "useless" power above this RPM range is costly, unnecessary, and risky.

TEST: While in neutral gear slowly raise the engine rpm of your car and see how uneasy you begin to feel around 4500-5000 rpm. Do you really want to enjoy your high performance engine's power above these levels ? Does your engine ?

Higher Horsepower figures and performance are achievable with 93 octane premium fuel. You can safely switch between low-mid-high octane fuels. Since the OBD II engine control system computer automatically adjusts engine timing to the highest level possible the advantages of higher octane fuels can be realized.

Timing advance is the only way gains from octane increase can be achieved.

Conversely, if you happen to buy some "bad" gas the computer protects your engine from detonation and possible damage.

VW Beetle engines do not have these protections. Their distributors are static and cannot make these automatic and critical adjustments: therefore, timing for VW's must be set for the least common denominator (lower 87 octane fuel) for fear of detonation and piston destruction. Higher octane fuels are a waste in engines whose timing cannot be advanced to take advantage of them.

This is why you cannot get a warranty on a VW engine built other than stock.

Advertised horsepower/torque ratings for high performance VW engines are usually measured using 93 octane fuel...what would they be with 87 octane fuel ?
Transaxle Choices: these specifications can vary from model and year choice
Subaru 4-speed automatic overdrive with electronic shift controls, floor shifter, oil cooler, 4.11 final drive ratio

"Sport Shift" feature now available

(2475rpm at 60mph 4th gear; passing down shift at 60mph develops 3600rpm which is just below the engine's peak torque rating 165 lb-ft at 4000rpm i.e. full torque available for passing)

Subaru 5-speed manual shift overdrive, 3.89 final drive ratio- OPTIONAL

(2580rpm at 60mph 5th gear; passing down shift at 60mph develops 3500rpm which is just below the engine's peak torque rating 165 lb-ft at 4000rpm i.e. full torque available for passing)