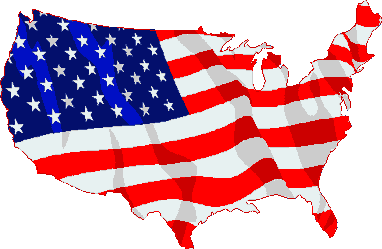 PRICES AND OPTIONS
WHAT CHOICES OF 1957 REPLICAS DO I HAVE FROM
Specialty Auto-sports, inc.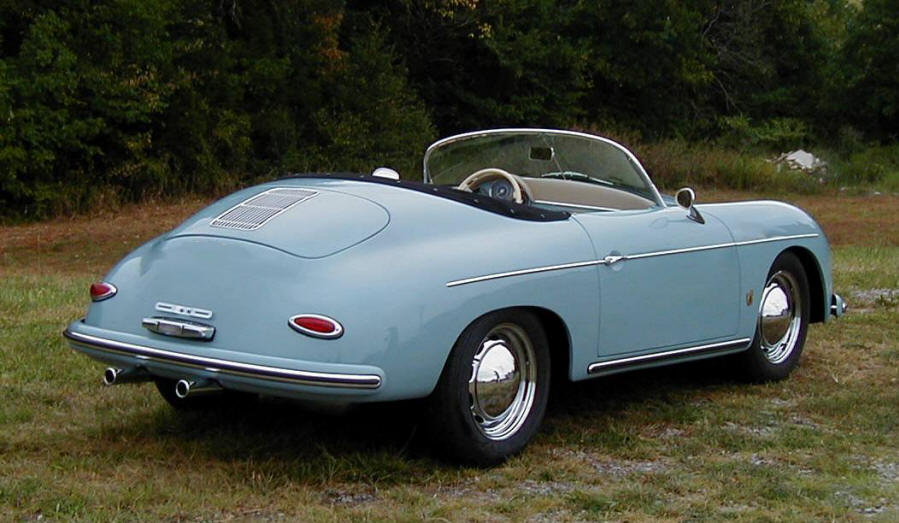 Turnkey cost for a standard equipped traditional style Speedster starts at $31,700.00.

See the standard features for a 1957 Speedster Speedster Build Sheet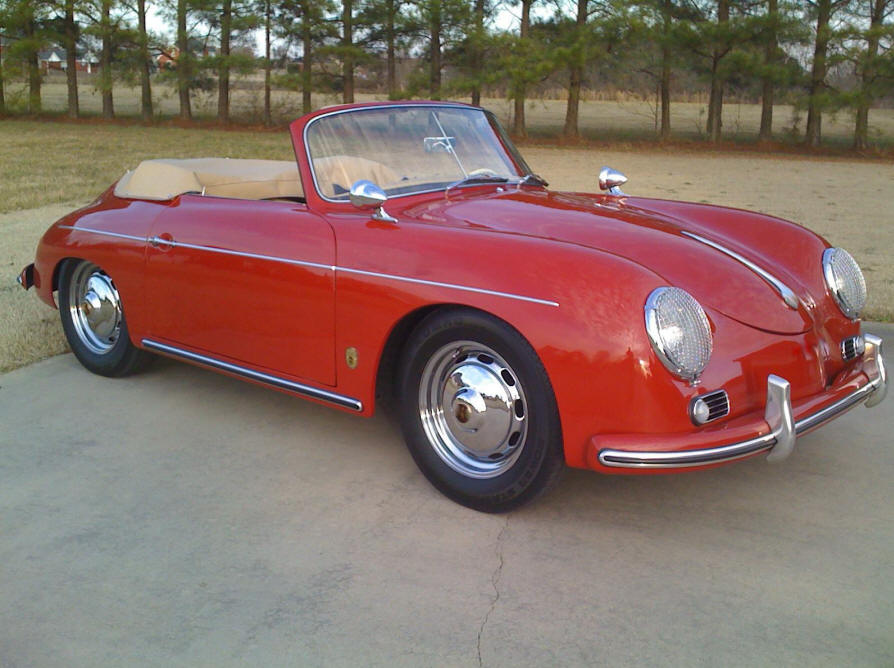 Turnkey cost for a standard equipped traditional style Cabriolet starts at $36,100.00
See the standard features for a 1957 Cabriolet Build Sheet - Cabriolet
1957 Coupe "Outlaw"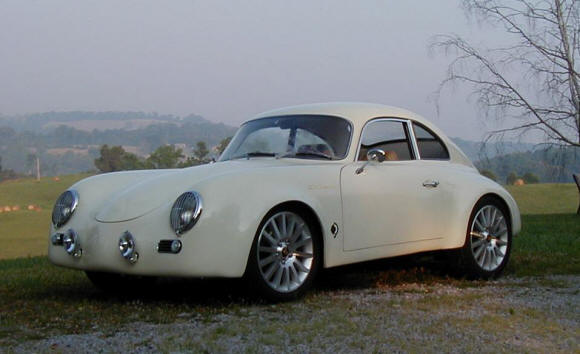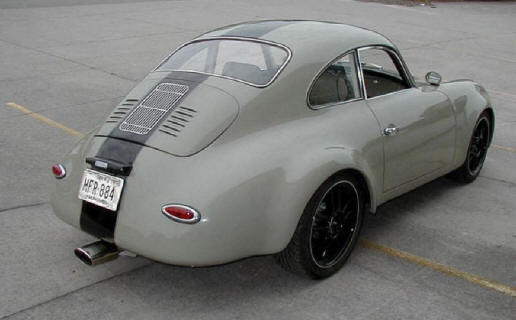 traditional body style also available
Turnkey cost for a standard equipped traditional style Coupe starts at $37,700.00
See the standard features for a 1957 Coupe Build Sheet - Coupe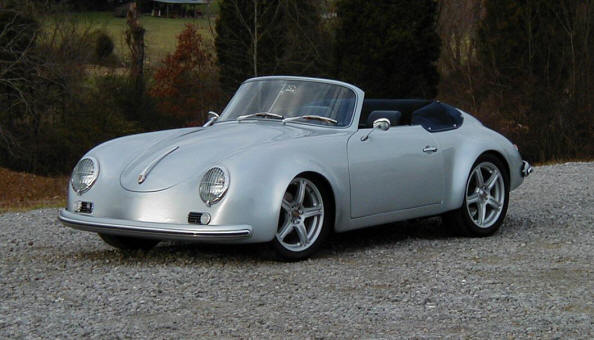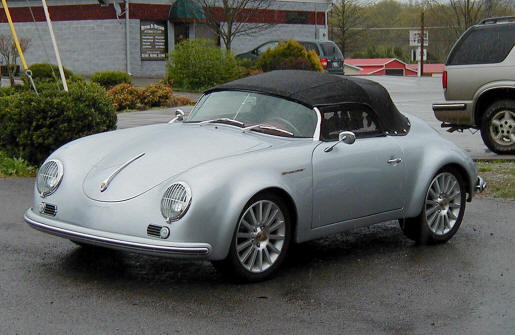 Flared fender Cabriolet Flared fender Speedster
The flared fender Speedster, Cabriolet, or Coupe costs more because of the wider body, wider suspension, and the more aggressive tires and wheels typically desired. We don't just bolt on wider wheels.
Base Costs:
(see standard features listed below photo of each car)
Standard Speedster $31,700.00

Standard Cabriolet $36,100.00

Standard Coupe $37,700.00
Options
General
Accurate body styling Included

Correct interior (proper carpets and style) Included

Reliability Included

3 Point retractable seat belts Included

Limited maintenance requirements (oil,belts) Included

High MPG (32-40) Included

Superior ergonomics (legroom, seats) Included

200 degree hot water heat and defrost Included

High performance mid-engine balance Included

Ownership gratification Included
Engine Choices

170 HP normally aspirated 2.5L SOHC Included

158 HP normally aspirated 2.0 DOHC alternate

265 -305 +/- hp Turbo 2.5L DOHC manual only $8000-9000

224hp, 243hp, 250hp 2.5L DOHC automatic or manual $8000

258 HP 6 cylinder 3.6L DOHC $4000
Transmission Choices
Automatic overdrive (AOD) 4 speed 4EAT Included

Automatic overdrive (AOD) 5 speed 5EAT $750.00

Automatic CVT (Continuously Variable Transmission) $750.00

5 Speed Manual $1200.00
Comfort
hot water heat and defrost

included

bi-level air conditioning-heat-defrost $2100
Heated seats - dual zone $ 395
leather interior (all surfaces) $1400
Convenience
Flare fender wide body

$1800

( 7" wheels and 4" wider suspension)
Rollup Window Speedster $2500
Power windows, scissor 4 bow top, weather sealed (no flaps), hidden glass
More about leaking Speedsters
cruise control $495
luggage rack (small) $450
Appearance
various cosmetics - mirrors, wheels, hubcaps, etc. Inquire
The design of our water-cooled 1957 replicas emphasizes safety and performance as well as assembly efficiency.

We do not sacrifice quality, safety, or reliability for speed of manufacture. Each car is carefully assembled and test driven at least 350 miles before being released.

Our 356A replicas are not "kit cars" that bolt a non-reinforced imported fiberglass body onto a 50 year old VW shortened chassis similar to past dune buggies.

We will happily give you the names of the other companies who build those VW cars, and there is a never ending supply on EBAY for those wanting instant availability.

We elect to present a custom designed and limited production automobile requiring skills and knowledge that go far beyond the typical VW kit car.
Can more really cost less ?
Since we no longer build the air-cooled rear engine VW version of the 356A replica for the many reasons shown on our website in addition to many we care not to mention, the cost differential between the two versions is difficult for the uninitiated to see. The quickest way to make a cost comparison is to choose a "standard" VW based version Speedster from any competitor company and then add the cost for upgrading it with the items listed below:
(these are all standard on our cars......ask if they are on the other Speedsters)
170hp (vs. VW 50hp)

Electronic fuel injection

automatic OD transmission

rack and pinion steering

independent front/rear suspension

power 4 wheel disc brakes(11"/10.5")

15 +/- gallon fuel tank

correct width interior (4" wider than VW)

more leg room

width and length

correct park brake location

accurate interior styling

roadster style seats (slide/tilt/recline)
Then consider our additional standard features they cannot offer.....how do they address these shortcomings ?
| | | |
| --- | --- | --- |
| mid engine performance | overhead cams | superior handling and braking |
| hot water heat and defrost | Universal OBD II serviceability | rear trunk storage |
Can you buy a VW Speedster with all of the above features for $31,700 ?

Add it all up and you might find that more can actually cost less

.....and what about resale ??

(Rollup windows are a feature standard available on our exclusive Cabriolet and Coupe version)
If you desire a written purchase proposal please Email or telephone your postal mailing address and any specifics you desire on the car.

Thanks again for your interest and good luck with your search for a 1957 replica.

Steve Lawing, BSME SALES@specialtyauto.com
President 865-925-2500

ALSO VISIT: www.specialtyauto.com/PORSCHE.htm