356A Replicas
Speedster, Cabriolet, or Coupe
---
the original Subaru powered 356A Replicas
water-cooled mid-engine EPA Legal
modernized brakes and suspension - a true structural tube frame chassis
---
After 20 years of building VW powered Speedsters we launched an 11 year program in 2002 to develop our mid-engine water-cooled Porsche Speedster replica . That effort also brought forth a 356A Cabriolet and a 356A Coupe as well

"CLICK" YOUTUBE TABLE

Our staff has a 32 year history of building Porsche Speedster replicas using the traditional air-cooled VW Beetle platform format; however, this is the 21st century and cars and driving requirements have changed dramatically ........

so we made some remarkable structural, mechanical, electrical, safety, appearance, and performance changes.
To begin..... DISCLAIMER

We do not use 45+ year old VW Beetle 50 hp air-cooled engine, transmission, suspension, steering, brake, fuel tank, column, or wiring parts or technology...none

We do not use illegal Subaru engines such as JDM (Japanese Domestic Market) which are strictly banned by US EPA and CARB for any on-road use.

We do not use "off road only use" Subaru drivelines used in sand rails and dune buggies ,which if used for highway use do not comply with the US EPA Clean Air Act nor CARB (California Air Resources Board) and are considered illegal.

What do we use ?

.........modern Subaru parts and technology, occupant safety features, EPA approved systems, common sense.
See Details menu below
contact: steve@specialtyauto.com
The original appearance of our beautiful 356A replicas is respectfully unchanged.

We faithfully retained the correct wheelbase, track, decoration, and shape for all of our traditional style 356 replicas.

Other 356 replicas cannot make this claim because of their adherence to the VW platform and components.

Our spectacular changes are beneath the skin and are our way of bringing into the 21st century the structural, mechanical, electrical, and safety systems of a very deserving classic car.

So what does all this mean to you ? Simply put .....

an engineered car versus a "kit" just put together by a body shop

greater performance, braking, and handling

better protection from the elements

easier access to parts, service, repair facilities

significantly better fuel mileage in spite of the high performance

significant improvement in occupant safety

improved comfort and ergonomics

This is a tradition our principals have enjoyed for the past 32 years on many other type cars, and we have considerable experience in this type work.
Details Menu
We offer 3 versions of the 356A .....plus lots of options
| | | |
| --- | --- | --- |
| 356A Speedster | | |
| 356A Cabriolet | | |
| 356A Coupe | | |
More Interesting information
want to know more ?........ Inquiries should be directed to
Specialty Auto-Sports, inc.
EMAIL steve@specialtyauto.com or 865-925-2500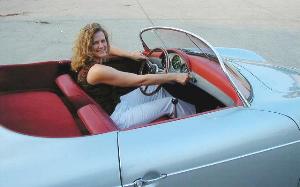 lets' go for a ride in a Porsche 356 replica
Some more interesting Porsche 356 replica websites
contact: steve@specialtyauto.com